I've been really exhausted all day, so I figured I'd cheer myself up with a bit of easy breezy beading. I got this 10x12mm faceted moss amethyst pear briolette last week, and wanted to make a slider with a couple of amethysts on the side. 30 minutes work and a nice dangly thing, right?
No.
It just would not look good. So I tried it with aquamarines. And I tried it with green amethysts. And I tried it with mauve freshwater pearls. And silvery.
No.
So I figured I'd give up on extras and wrap it with a silver pearl or two.
No.
So I wrapped it very simply, string the solitary slider on some wire, and freshwater pearls for the neckwire.
No.
Gave up, slid the slider on some black pleather, as simple as can be.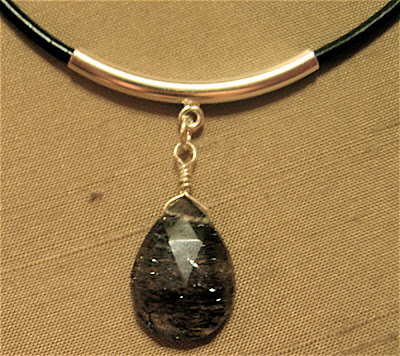 After all the wrong turns and choices, we finally have a
Yes
. You'd never guess it took me some two and a half hours to make it happen, but now it's finally tamed to dangle and sparkle real pretty.